"I am still learning…"  This is what Seneca wrote on his 76th Letter to Lucilius. What makes this quote so touching is that Seneca was already 70 years old at the time and was advising young Lucilius to never stop learning even though it may become harder to accept the discomfort associated with it once we grow older. Learning and development is something we do from a very young age and we continue to do so our entire life. It helps us improve, both personally and professionally, and it allows us to reinvent ourselves, keeping our brain young and ready to take on any challenge.  
With the world constantly evolving, fast-changing technologies make it difficult sometimes to keep up with all the innovation, especially in the workplace, where new skills are required, and brand new and challenging jobs are created. To remain on top of our game, we need to continuously improve ourselves and collect experiences that add value to our professional confidence and competence. Faithful to its "learn it all" mantra, introduced into the company's culture by CEO Satya Nadella, Microsoft supports our learning needs, offering large training and certification opportunities for people interested in developing their tech skills, regardless of their current financial or employment status. Students, employees and those looking for a (new) job can benefit from Microsoft Learn, a learning platform which is completely free. 
Software development is usually the place where progress happens and individuals in this industry make learning and development the center of their activity. There is a common belief amongst them that you are always a junior at something. Even though you are a rock star when it comes to .NET technologies or you can develop the coolest web browser-based games, you might not know where to start when writing Python code to train an AI model. MS Learn comes to your help with step by step tutorials on a wide range of topics, to help ease the learning curve. 
Microsoft Learn unites LinkedIn data and GitHub Learning into a one-single source of learning content for in-demand jobs, and the tools needed to prove the skills match those jobs. The platform has 3 main sections that allow users to create their learning experiences and go through the modules at their own pace. 
1. Microsoft 

Learning Paths

 
Learning Paths is a great opportunity for those who want to learn new skills or just brush up on the ones they already have.  
The section is organized around specific roles (e.g. developer, architect, system administrator etc.) or technologies (e.g. Azure Web Apps, Power BI) and offers users the possibility to customize their learning paths based on their interests. The process is straightforward, and each module contains relevant details about the content, what skills would the user acquire and what are the needed prerequisites. During the learning path, users will not only read and watch videos but also get hands-on experience with the tools they are learning about. Each module is currently available in English, French, Spanish, and German.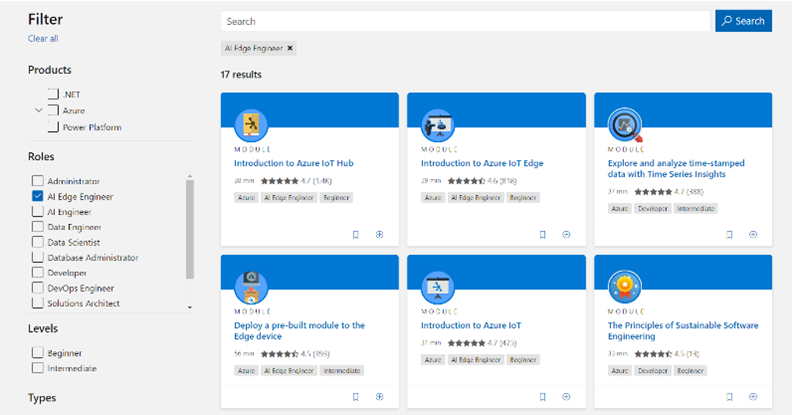 The newest and most exciting part is that Microsoft is now taking advantage of data analytics to better understand the new in-demand skills and jobs and create learning paths that provide people with the information and skills required. Using the LinkedIn Economic Graph, Microsoft has identified key jobs that have grown steadily in the last years (and are also expected to grow in the future) and that require a lot of skills that can be learned online.  
The learning platform is Microsoft's solution to the growing need for new skills, especially ones that can be learned and put to good use in the digital world. This can benefit students and people looking for a (new) job, but also companies that want to support their employees' personal and professional development.  
2. Microsoft 

Certification

 
Certifications have always been a key part for Microsoft, a reliable and unquestionable step in supporting people's learning and development. Microsoft certifications have now become an integrated part in most companies that encourage their employees to enhance their knowledge and view these certifications as a recognition of their competency and confirmation they fit the job. 
Job seekers can also benefit from a Microsoft Certification as it provides an external validation that they have the skills needed to succeed, hence increasing their chances to get a job.  

Microsoft has certification paths for many technical job roles, including the ones that are and will continue to be in-demand. Each of these certifications consists of passing a series of exams. The industry-recognized certifications offer ranges from technology essentials for those who are at the beginning of their technical career or want to make a domain change, to the more specific, role-based certifications, and additional, speciality certifications. 
Microsoft has quickly adapted to the current situation and is now offering low-cost access to certifications based on exams that demonstrate proficiency in Microsoft technologies. Those who self-attest that their employment has been impacted by COVID-19 can take these exams at a discounted fee of USD 15. 
3. 

Microsoft 

Learn TV

 
Committed to helping individuals keep up with technological updates and learning opportunities, Microsoft has integrated streaming capabilities into the platform. As a result, people all over the world can join technical discussions, listen to experts explaining how to use Microsoft products, or talk about the skills IT professionals need to develop their career.  
In addition, for those who missed this year's Microsoft Ignite conference or just want to watch it again, Learn TV allows you to check it on your own time. You can revisit, for instance, Scott Hanselman's session about Azure App development where he and his guests talk about amazing cloud-powered applications. Not to give you too many spoilers if you haven't watched it yet, but you can also hear Scott explain how he built a chores app with Raspberry PI and Azure in order to tell his kids to take out the trash. So, there's definitely a lot to learn from these sessions, thanks to Learn TV.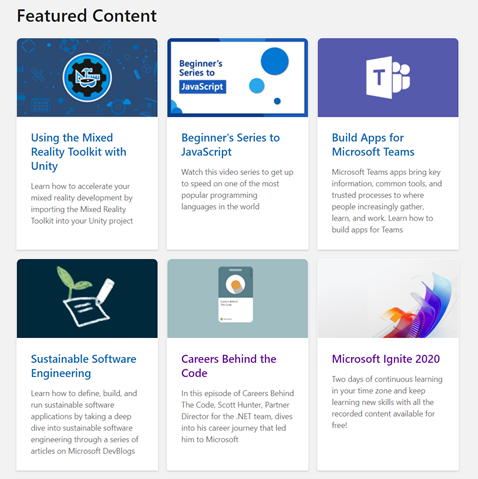 There are a lot of learning sources online, but finding the right content is vital. Microsoft Learn offers the possibility to learn based on your needs, but also considers the current requirements and expected changes in the workforce market, introducing content that reflects these trends. All of this is free of charge, and, at the end, you can test your knowledge with Microsoft Certifications and get the proof that you know what you are doing.